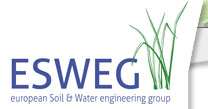 News
1st Euro-Mediterranean Conference for Environmental Integration (EMCEI)
22-25 November 2017, Sousse, Tunisia
The main objectives of the conference are to support research and innovation, to promote the exchange of scientific knowledge, and to foster collaboration among Euro-Mediterranean communities.
Third edition of I.S.Rivers-Integrative sciences and sustainable development of rivers
4-8 June, 2018, Lyon, France
This international conference is dedicated to research and practices on natural and human-impacted large rivers, in particular functioning, changes and processes, interface and interactions, management policies, engineering.
Natural Water Retention in Europe
A guide to support the selection, design and implementation of Natural Water Retention Measures.
Natural Water Retention Measures cover a diversity of meaures that are implemented by different sectors or considered in different planning processes dealing with water; flood risk management, biodiversity protection, climate change adaptation, or urban planning. Some of these measures aim to directly modify the ecosystem, while others focus on changes of practice of economic operators.
PHYTOTREATMENT
Solutions for the remediation of water bodies and lagoons with natural systems
New document created by ESWEG on water cleaning with natural systems based on the experiences from Germany, England, France, Spain & Sweden.
ESWEG meeting in Spain
Last meeting of ESWEG members in Mallorca with an agenda on new research on river restoration systems and improvement of water quality. Again, it has been an interesting exchange of knowledge and experiences.
Publications about Europe's environment
Published by EEA European Environmental Agency.
The Best Environment projects
The European Commission has published the Best LIFE-Nature and LIFE-Environment Projects, in recognition of its success in innovation, design or implementation.
Click on the logos to your right and discover the companies that are part of the group

© EUROPEAN SOIL AND WATER
ENGINEERING GROUP

EUROPEAN SOIL AND WATER ENGINEERING GROUP
SLOPE STABILISATION AND EROSION CONTROL · WATER COURSE, RIVER BANK AND SHORELINE MANAGEMENT
WETLAND AND RUN OFF WATER TREATMENT
Choose your language: