Més de25 anys d'experiències en el camp de l'estabilització de talussos i control de l'erosió la gestió de cursos d'aigua i marges fluvials aiguamolls i filtres verds junts sota un únic sostre.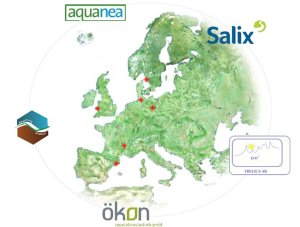 El passat 25 d'agost del 2006 l' EUROPEAN SOIL AND WATER ENGINEERING GROUP EEIG va ser oficialment registrat a Suècia amb el propòsit d'unir el marcat Europeu, per compartir i combinar l'experiència individual en enginyeria per projectes a gran escala, estandardització de tècniques i productes, i realitzar treballs de recerca i desenvolupament de sistemes i productes en el sector de la bioenginyeria.
Els membres fundadors són Aquaterra solutions S.A.R.L. (França), Aquanea (Espanya), Ökon Vegetationstechnik (Alemanya), Salix River & Wetland Services Limited (GB) and Thulica AB (Suècia), que representen una experiència i competència úniques amb més de 1000 projectes desenvolupats arreu d'Europa.
Les conseqüències ambientals de qualsevol projecte necessari d'enginyeria civil fan necessàries mesures per reduir l'impacte negatiu sobre la flora, fauna i hàbitats en general. La bioenginyeria o enginyeria ecològica ofereix solucions on ens guia una visió holística del medi, seleccionant els sistemes per optimitzar les solucions tant a nivell ambiental, tècnic com econòmic. El resultats són projectes amb la màxima eficiència tecnològica i econòmica en equilibri amb la natura.

El nou grup pot oferir els recursos conjunts dels seus membres que representa el grup del sector amb més capacitat a Europa i probablement al món.

Aquest projecte de cooperació entre professionals del sector d'arreu de la Unió Europea ha estat recolzada per la AEIE (Agrupació Europea d'Interès Econòmic) regulacions, EEC No. 2137/85 del Juliol de1985.


---

More than 25 years of expertise in the field of slope stabilisation and erosion control water course, river bank and shoreline management wetland and run off water treatment gathered under one roof.

On August 25th 2006 the EUROPEAN SOIL AND WATER ENGINEERING GROUP EEIG was registered in Sweden with the purpose of joint European and global marketing, combining individual engineering competences for large scale projects, product standardisation, joint research and development of products and system in the sector of soil bioengineering. Founding members are AquaTerra Solutions S.A.R.L. (France), Aquanea (Spain), Ökon Vegetationstechnik Gmbh (Germany), Salix River & Wetland Services Limited (GB) and Thulica AB (Sweden), who represents unique competence and experience with more than 1000 projects carried out through out Europe.

Expected consequences for the environment at any civil engineering project in our nature necessitate focus at the planning phase on measurements to mitigate negative impact on flora, fauna and habitat in general.

Soil bioengineering offers solutions where a holistic view point on the environment is guiding selection of systems to optimise environmental concern, technical and economical parameters. The effect will be a cost efficient technical project in balance with nature.

The new company may offer its members joint resources representing the accumulated largest capacity in Europe and probably in the world.

The objective of such co-operation between colleagues within the European Union is encouraged by the EEIG (European Economic Interest Grouping) regulations, EEC No. 2137/85 of July 1985.