Ponad 25 lat doswiadczenia w dziedzinach Zabezpieczenia skarp i ochrona anty-erozyjna Ochrona brzegów i nabrzezy Filtry denne i oczyszczanie wody Gospodarka biotopowa Wszystko to pod jednym dachem.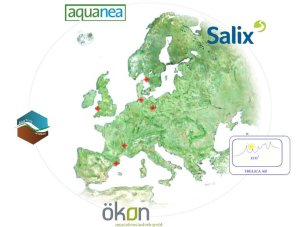 25 sierpnia 2006 roku zostala zalozona grupa EUROPEAN SOIL AND WATER ENGINEERING GROUP EEIG. Celem jest przede wszystkim rozwój rynku europejskiego, ale tez miejsce do wymiany doswiadczen z zakresu inzynierii biologicznej i budownictwa wielu krajów. Idac dalej istotny jest tez fakt rozwoju nowych technologii, poszukiwanie nowych doswiadczen wspólnie z partnerami z Europy.

Zalozycielami sa Aquaterra Solutions S.A.R.L. (Francja), Aquanea (Hiszpania), Ökon Vegetationstechnik GmbH (Niemcy), Salix River & Wetland Services Limited (Wielka Brytania) i Thulica AB (Szwecja). Wspomniane przedsiebiorstwa moga poszczycic sie doswiadczeniem z ponad 1000 projektów zrealizowanych w calej Europie .

Przy wszystkich koniecznych inwazjach w srodowisko naturalne konieczne jest kalkulowanie ewentualnych negatywnych skutków dla roslin, zwierzat i wszelkich siedlisk zycia, a takze metod ich unikniecia i zapobiegania lub co najmniej minimalizowania. Wlasnie w takich sytuacjach nie sposób zapomniec o inzynierii biologicznej i o jej ekologicznym wplywie przy planowaniu i zagospodarowywaniu terenów naturalnych. Inzynieria biologiczna bierze bowiem pod uwage wszelkie zagrozenia i ryzyka dla srodowiska naturalnego.

Nowopowstala grupa przedsiebiorstw dysponuje bogatym wachlarzem rozwiazan i wiedzy opartej na doswiadczeniu zdobytego w calej Europie.

Celem takowej wspólpracy partnerów z róznych czesci Europy zostala umozliwiona dzieki normie unijnej EEIG (European Economic Interest Grouping), EEC Nr. 2137/85 w lipcu 1985.
---

More than 25 years of expertise in the field of slope stabilisation and erosion control water course, river bank and shoreline management wetland and run off water treatment gathered under one roof.

On August 25th 2006 the EUROPEAN SOIL AND WATER ENGINEERING GROUP EEIG was registered in Sweden with the purpose of joint European and global marketing, combining individual engineering competences for large scale projects, product standardisation, joint research and development of products and system in the sector of soil bioengineering. Founding members are AquaTerra Solutions S.A.R.L. (France), Aquanea (Spain), Ökon Vegetationstechnik Gmbh (Germany), Salix River & Wetland Services Limited (GB) and Thulica AB (Sweden), who represents unique competence and experience with more than 1000 projects carried out through out Europe.

Expected consequences for the environment at any civil engineering project in our nature necessitate focus at the planning phase on measurements to mitigate negative impact on flora, fauna and habitat in general.

Soil bioengineering offers solutions where a holistic view point on the environment is guiding selection of systems to optimise environmental concern, technical and economical parameters. The effect will be a cost efficient technical project in balance with nature.

The new company may offer its members joint resources representing the accumulated largest capacity in Europe and probably in the world.

The objective of such co-operation between colleagues within the European Union is encouraged by the EEIG (European Economic Interest Grouping) regulations, EEC No. 2137/85 of July 1985.