More than 25 years of expertise in the field of slope stabilisation and erosion control water course, river bank and shoreline management wetland and run off water treatment gathered under one roof.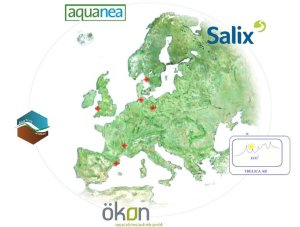 On August 25th 2006 the EUROPEAN SOIL AND WATER ENGINEERING GROUP EEIG was registered in Sweden with the purpose of joint European and global marketing, combining individual engineering competences for large scale projects, product standardisation, joint research and development of products and system in the sector of soil bioengineering.

Founding members are AquaTerra Solutions S.A.R.L. (France), Aquanea (Spain), Ökon Vegetationstechnik Gmbh (Germany), Salix River & Wetland Services Limited (GB) and Thulica AB (Sweden), who represents unique competence and experience with more than 1000 projects carried out through out Europe.

Expected consequences for the environment at any civil engineering project in our nature necessitate focus at the planning phase on measurements to mitigate negative impact on flora, fauna and habitat in general.

Soil bioengineering offers solutions where a holistic view point on the environment is guiding selection of systems to optimise environmental concern, technical and economical parameters. The effect will be a cost efficient technical project in balance with nature.

The new company may offer its members joint resources representing the accumulated largest capacity in Europe and probably in the world.

The objective of such co-operation between colleagues within the European Union is encouraged by the EEIG (European Economic Interest Grouping) regulations, EEC No. 2137/85 of July 1985.


---

Mwy na 25 mlynedd o arbenigo ym maes sefydlogiad goleddau a rheoli erydu, cwrs dŵr, rheoli corlannau ac afonydd a thrin dŵr a gwlypdir.

Ar Awst 25ain 2006, cofrestrwyd GRŴP PEIRIANNEG PRIDD A DŴR EWROP (EEIG) yn Sweden a'i bwrpas oedd marchnata Ewropeaidd a byd-eang, cyfuno cymhwysedd peiriannegol ar gyfer prosiectau ar raddfa fawr, safoni cynnyrch, cyd-ymchwilio a chyd-ddatblygu cynnyrch a system yn sector bio-beirianneg y pridd.

Yr aelodau sylfaenol yw AquaTerra Solutions, S.A.R.L. (Ffrainc), Aquanea (Sbaen), Ökon Vegitationstechnik Gmbh (Yr Almaen), Gwasanaethau Afonydd a Gwlypdir Salix Cyf. (Prydain) a Thulica Ab (Sweden) sydd yn meddu ar brofiad a chymhwyster unigryw, wedi iddynt gyflawni mwy na 1,000 o brosiectau drwy Ewrop.



Mae canlyniadau disgwyliedig i'r amgylchedd yn sgil unrhyw brosiect peirianneg sifil o fewn ein maes ni yn gofyn am ffocws wrth gynllunio mesuriadau er mwyn gwaredu ar effaith negyddol ar fflora, ffawna a chynefinoedd yn gyffredinol. Mae bio-beirianneg y pridd yn cynnig datrysiadau lle mae safbwynt cyfannol am yr amgylchedd yn llywio dewisiadau ynghylch systemau er mwyn optimeiddio gofal am yr amgylchedd a pharamedrau technegol ac economaidd.

Effaith hyn fydd prosiect technegol, cost-effeithiol sydd yn unol â byd natur. Mae'n bosib y bydd y cwmni'n cynnig adnoddau cyfun i'w aelodau, sydd yn cyfateb i'r cyfanswm uchaf yn Ewrop ac yn fyd-eang, o bosib.

Anogir nod y fath gydweithio rhwng gweithwyr o fewn yr Undeb Ewropeaidd gan ganllawiau'r EEIG (Gr w pio Diddordebau Economaidd Ewrop), Cymuned Economaidd Ewrop Rhif 2137/85 sydd yn deillio o fis Gorffennaf 1985.