Mehr als 25 Jahre Erfahrung in den Bereichen Böschungssicherung und Erosionsschutz Ufer- und Küstenschutz Bodenfilter und Wasserreinigung Biotopgestaltung zusammen unter einem Dach.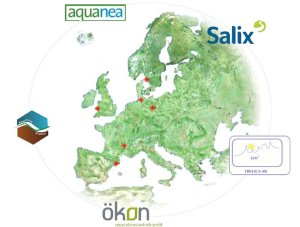 Am 25. August 2006 wurde die EUROPEAN SOIL AND WATER ENGINEERING GROUP EEIG gegründet. Ziel ist es zur weiteren Entwicklung des europäischen Maktes die Erfahrungen und Kompetenzen der verschiedenen Länder auszutauschen und verfügbar zu machen. Weiterhin soll die Entwicklung neuer Produkte und Verfahren im Bereich der Ingenieurbiologie gemeinsam vorangetrieben werden.
Gründungsmitglieder sind Aquaterra Solutions S.A.R.L. (Frankreich), Aquanea (Spanien), Ökon Vegetationstechnik GmbH (Deutschland), Salix River & Wetland Services Limited (Groß-Britanninen) and Thulica AB (Schweden). Diese Unternehmen repräsentieren die Erfahrung aus mehr als 1000 Projekten - durchgeführt in ganz Europa.
Bei allen notwendigen Eingriffe in unsere natürliche Umgebung müssen eventuelle negativen Auswirkungen auf Pflanzen, Tiere und deren Lebensräumen vermieden oder zumindest minimiert werden. Hier setzt die Ingenieurbiologie an und sucht nach Lösungen, die die naturschutzfachlichen Belange unter den jeweiligen technischen und ökonomischen Rahmenbedingungen weitmöglichst berücksichtigen.
Das neue Unternehmen verfügt für diese Lösungen über den größten Pool an Wissen und Erfahrungen in Europa.

Das Ziel einer derartigen Kooperation verschiedener Partner in Europa wird ermöglicht durch die EU-Rechtsform der EEIG (European Economic Interest Grouping), EEC No. 2137/85 m Juli 1985.
---

More than 25 years of expertise in the field of slope stabilisation and erosion control water course, river bank and shoreline management wetland and run off water treatment gathered under one roof.

On August 25th 2006 the EUROPEAN SOIL AND WATER ENGINEERING GROUP EEIG was registered in Sweden with the purpose of joint European and global marketing, combining individual engineering competences for large scale projects, product standardisation, joint research and development of products and system in the sector of soil bioengineering. Founding members are AquaTerra Solutions S.A.R.L. (France), Aquanea (Spain), Ökon Vegetationstechnik Gmbh (Germany), Salix River & Wetland Services Limited (GB) and Thulica AB (Sweden), who represents unique competence and experience with more than 1000 projects carried out through out Europe.

Expected consequences for the environment at any civil engineering project in our nature necessitate focus at the planning phase on measurements to mitigate negative impact on flora, fauna and habitat in general.

Soil bioengineering offers solutions where a holistic view point on the environment is guiding selection of systems to optimise environmental concern, technical and economical parameters. The effect will be a cost efficient technical project in balance with nature.

The new company may offer its members joint resources representing the accumulated largest capacity in Europe and probably in the world.

The objective of such co-operation between colleagues within the European Union is encouraged by the EEIG (European Economic Interest Grouping) regulations, EEC No. 2137/85 of July 1985.