Mais de 25 anos de experiências na estabilização de taludes e controlo da erosão, gestão de cursos de água e margens fluviais, marismas e filtros verdes juntos num só tecto.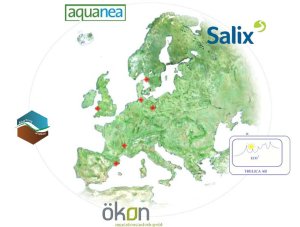 No passado dia 25 de Agosto de 2006 EUROPEAN SOIL AND WATER ENGINEERING GROUP EEIG foi oficialmente registado na Suécia com o propósito de unir o mercado Europeu, para partilhar e combinar a experiência individual em engenharia para projectos a grande escala, estandardização de técnicas e produtos, e i realizar trabalhos de I+D investigação e desenvolvimento de sistemas e produtos no sector da bioengenharia.

Os membros fundadores são Aquaterra solutions S.A.R.L. (França), Aquanea (Espanha), Ökon Vegetationstechnik (Alemanha), Salix River & Wetland Services Limited (GB) e Thulica AB (Suécia), que representam uma experiência e competência únicas com mais de 1000 projectos desenvolvidos em toda a Europa.

As consequências ambientais de qualquer projecto necessário de engenharia civil tornam necessárias medidas para reduzir o impacto negativo sobre a flora, fauna e habitats em geral. A bioengenharia ou engenharia ecológica oferece soluções onde é necessária uma visão holística do meio seleccionando os sistemas para optimizar as soluções tanto a nível ambiental, técnico como económico. O resultado são projectos com a máxima eficiência tecnológica e económica em equilíbrio com a natureza.

O novo grupo pode oferecer os recursos conjuntos dos seus membros que representam o grupo do sector com mais capacidade na Europa e provavelmente no mundo.

Este projecto de cooperação entre profissionais do sector de diferentes países da União Europeia esteve sustentada pela AEIE (Agrupamento Europeu de Interesse Económico) regulações, EEC No. 2137/85 de Julho de1985.


---

More than 25 years of expertise in the field of slope stabilisation and erosion control water course, river bank and shoreline management wetland and run off water treatment gathered under one roof.

On August 25th 2006 the EUROPEAN SOIL AND WATER ENGINEERING GROUP EEIG was registered in Sweden with the purpose of joint European and global marketing, combining individual engineering competences for large scale projects, product standardisation, joint research and development of products and system in the sector of soil bioengineering. Founding members are AquaTerra Solutions S.A.R.L. (France), Aquanea (Spain), Ökon Vegetationstechnik Gmbh (Germany), Salix River & Wetland Services Limited (GB) and Thulica AB (Sweden), who represents unique competence and experience with more than 1000 projects carried out through out Europe.

Expected consequences for the environment at any civil engineering project in our nature necessitate focus at the planning phase on measurements to mitigate negative impact on flora, fauna and habitat in general.

Soil bioengineering offers solutions where a holistic view point on the environment is guiding selection of systems to optimise environmental concern, technical and economical parameters. The effect will be a cost efficient technical project in balance with nature.

The new company may offer its members joint resources representing the accumulated largest capacity in Europe and probably in the world.

The objective of such co-operation between colleagues within the European Union is encouraged by the EEIG (European Economic Interest Grouping) regulations, EEC No. 2137/85 of July 1985.