Mer än 25 års expertis inom släntstabilisering och erosionskontroll säkring av vattendrag, åbrinkar och kuster behandling av våtmarker och dagvattenrening samlat under ett tak.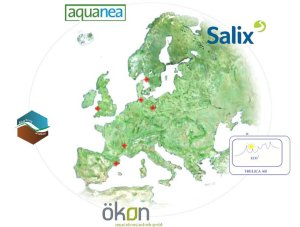 Den 25 augusti 2006 registrerades EUROPEAN SOIL AND WATER ENGINEERING GROUP EEIG i Sverige med syftet att få en gemensam europeisk och global marknadsföring, förena individuella kompetenser i stora projekt, standardisering av produkter, gemensam forskning och utveckling av system inom ingenjörsbiologin.
Bildande medlemmar är AquaTerra Solutions S.A.R.L. (Frankrike), Aquanea (Spanien), Ökon Vegetationstechnik Gmbh (Tyskland), Salix River & Wetland Services Limited ( Storbritannien ) och Thulica AB (Sverige), vilka representerar unika kompetenser och erfarenheter genom mer än 1000 genomförda projekt i Europa.
Konsekvenser för miljön i infrastruktur-projekt är i dagens samhälle en stor fråga. Stor fokus läggs på åtgärder för att undvika negativ inverkan på flora, fauna och habitat i ett större perspektiv.

Ingenjörsbiologin erbjuder ett övergripande hänsynstagande med lösningar där systemen väljs med miljö, teknik och ekonomi i centrum. Effekten blir tekniskt och ekonomiskt optimerade lösningar i balans med naturen.

Det nya företaget ger sina medlemmar gemensamma resurser och representerar den största samlade kapaciteten i Europa och förmodligen i hela världen.

Verksamhetens syfte till sådant samarbete mellan kollegor inom EU uppmuntras av EEIG-förordningen, EEC No. 2137/85, juli 1985, gällande Europeisk Ekonomisk Intressegruppering.


---

More than 25 years of expertise in the field of slope stabilisation and erosion control water course, river bank and shoreline management wetland and run off water treatment gathered under one roof.

On August 25th 2006 the EUROPEAN SOIL AND WATER ENGINEERING GROUP EEIG was registered in Sweden with the purpose of joint European and global marketing, combining individual engineering competences for large scale projects, product standardisation, joint research and development of products and system in the sector of soil bioengineering. Founding members are AquaTerra Solutions S.A.R.L. (France), Aquanea (Spain), Ökon Vegetationstechnik Gmbh (Germany), Salix River & Wetland Services Limited (GB) and Thulica AB (Sweden), who represents unique competence and experience with more than 1000 projects carried out through out Europe.

Expected consequences for the environment at any civil engineering project in our nature necessitate focus at the planning phase on measurements to mitigate negative impact on flora, fauna and habitat in general.

Soil bioengineering offers solutions where a holistic view point on the environment is guiding selection of systems to optimise environmental concern, technical and economical parameters. The effect will be a cost efficient technical project in balance with nature.

The new company may offer its members joint resources representing the accumulated largest capacity in Europe and probably in the world.

The objective of such co-operation between colleagues within the European Union is encouraged by the EEIG (European Economic Interest Grouping) regulations, EEC No. 2137/85 of July 1985.