AquaTerra Solutions® société Rhônalpine est spécialisée dans les techniques de contrôle de l'érosion, cours d'eau, restauration des lacs, rivières et zones humides, protection des berges et des cotes, techniques de bio-ingénierie, biodiversité, gabions, stabilisation et renforcements des sols végétalisation des talus et berges, aménagements hydrauliques et paysagers mais aussi les soutènements , écrans antibruits et façades minérales.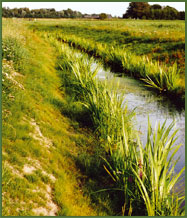 Nous privilégions les solutions douces respectueuses de l'environnement et nous mettons un point d'honneur à rechercher la solution la plus adéquate. Outre la réponse aux besoins et habitudes du marché AquaTerra propose une alternative plus judicieuse, plus fiable et aux résultats garantis, de mise en œuvre plus facile ou avec plus de sécurité.

Notre souci constant est d'offrir des solutions de qualité jusque dans la mise en œuvre .
(Des produits, même de qualité, dont la mise en œuvre est aléatoire ou laisse à désirer
sont des mauvaises solutions).

Nous commercialisons trois grandes familles de produits ;

Génie végétal : hélophytes, géotextiles (géofilets) coco et jute, boudins/fascines coco (fascines),
boudins pré-végétalisés, radeaux végétalisés
Gabions : double torsion et électrosoudés (boites, sacs et matelas).
Tapis de contrôle de l'érosion : géofilets coco et jute, géomats, géogrilles tridimensionnelles,
bionattes, mulchmat

AquaTerra Solutions ® apporte son savoir faire, son assistance technique et livre ses solutions principalement en France métropolitaine et d'outre mer ainsi que dans les pays d'expression française.


---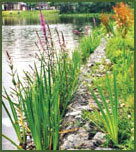 AquaTerra Solutions® is a company based in Rhône-Alpes, specialising in erosion control techniques , bio-engineering, watercourses, river restoration, lakes and wetlands, shorelines and banks protection, biodiversity, gabions, stabilisation and reinforcement of soils and slopes , vegetation establishment on embankments, landscape and hydraulic works, as well as retaining walls, noise barriers and stone facades.

We advise on environmentally friendly solutions. We give priority to soft ecological solutions and insist on developing the most perfectly adapted techniques. Besides offering appropriate answers to the market needs and uses, AquaTerra propose a more reliable alternative with guaranteed results, and easier, safer methods of construction.

Our constant aim is to provide quality solutions from conception to realisation (quality products with poor customer service is of no use). We sell three main types of products: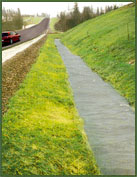 Bioengineering : wetland plants, fibre carpets and rolls, coir logs, pre-vegetated fibre rolls, floating islands, brushwood faggots.
Gabions : double twisted mesh and welded mesh (boxes, matresses and sac) rock rolls
Mats : fibre mats, biomats, geomats, mulchmats, three dimensional mats,
permanent turf reinforcement mats.

AquaTerra Solutions® provides its knowledge and technical assistance mainly in France and French overseas, as well in French speaking countries.