Plus de 25 ans d'expertise dans le domaine
la stabilisation des sols et le contrôle de l'érosion, les cours d'eau,
les aménagements des berges et des zones côtières,
le traitement des zones humides et marécageuses,
la restauration des biotopes
regroupé sous une seule bannière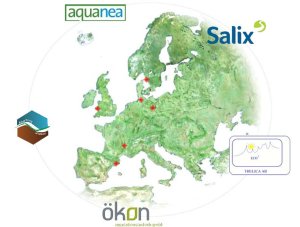 Le 25 août 2006 le groupe EUROPEAN SOIL AND WATER ENGINEERING GROUP EEIG a été enregistré avec l'objectif de réunir des sociétés européennes avec un marketing global commun, combinant des compétences individuelles spécifiques pour une large gamme de projets, standardisation des produits ainsi que la mise en commun des programmes de recherche et développement de produits et systèmes dans le secteur de la bio-ingénierie (génie végétal).

Les membres fondateurs sont : AquaTerra Solutions Sarl (France), Aquanea (Espagne), Ökon Vegetationstechnik GmbH (Allemagne), Salix River & Wetland Services Limited (Royaume Uni) et Thulica AB (Suède), qui représente une compétence et expérience unique avec plus de 1000 projets réalisés à travers l'Europe.

Les conséquences des projets d'ingénierie civile sur l'environnement imposent des mesures pour éviter ou limiter l'impact négatif sur la faune, la flore et les habitats.

La bio-ingénierie des sols offre des solutions dans lesquelles on donne une place prépondérante à un point de vue holistique sur l'environnement guidé par une sélection de solutions douces respectueuses de l'environnement, intégrant les paramétres techniques et économiques. L'efficacité sera un équilibre entre les résultats du projet et son impact sur la nature.

Ce nouveau groupement offre ainsi à ses membres des ressources et l'expérience la plus significative en Europe et probablement dans le monde.

Une telle coopération entre confréres au sein de l'Union Européenne est encouragé par la création et les régles des GEIE (Groupement Européen d'Interet Economique), EEC n°. 2137/85 de juillet 1985


---

More than 25 years of expertise in the field of slope stabilisation and erosion control water course, river bank and shoreline management wetland and run off water treatment gathered under one roof.

On August 25th 2006 the EUROPEAN SOIL AND WATER ENGINEERING GROUP EEIG was registered in Sweden with the purpose of joint European and global marketing, combining individual engineering competences for large scale projects, product standardisation, joint research and development of products and system in the sector of soil bioengineering. Founding members are AquaTerra Solutions S.A.R.L. (France), Aquanea (Spain), Ökon Vegetationstechnik Gmbh (Germany), Salix River & Wetland Services Limited (GB) and Thulica AB (Sweden), who represents unique competence and experience with more than 1000 projects carried out through out Europe.

Expected consequences for the environment at any civil engineering project in our nature necessitate focus at the planning phase on measurements to mitigate negative impact on flora, fauna and habitat in general.

Soil bioengineering offers solutions where a holistic view point on the environment is guiding selection of systems to optimise environmental concern, technical and economical parameters. The effect will be a cost efficient technical project in balance with nature.

The new company may offer its members joint resources representing the accumulated largest capacity in Europe and probably in the world.

The objective of such co-operation between colleagues within the European Union is encouraged by the EEIG (European Economic Interest Grouping) regulations, EEC No. 2137/85 of July 1985.