AquaTerra Solutions®, società francese, è specializzata nelle tecniche di controllo dell'erosione, corsi d'acqua, rinaturazione di laghi, fiumi e zone umide, protezione di argini e coste, tecniche di ingegneria naturalistica, biodiversità, gabbioni, stabilizzazioni e rinforzo dei suoli, rinverdimenti, sistemazione idraulica e paesaggistica, ma pure in sostegni, schermi anti-rumore e facciate minerali.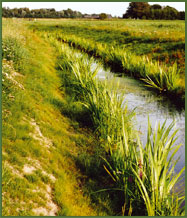 Noi privilegiamo delle soluzioni dolci, rispettose dell'ambiente e il nostro obiettivo principale è quello di cercare sempre la soluzione più adeguata. Oltre a rispondere ai bisogni e alle abitudini del mercato AquaTerra, propone un'alternativa più giudiziosa, più affidabile con dei risultati garantiti per una realizzazione più facile e più sicura.

Il nostro costante obiettivo è di offrire delle soluzioni di qualità garantite fino alla realizzazione dell'opera. (I prodotti, anche di qualità, la cui messa in pera risulta aleatoria, o lascia a desiderare, non sono ritenute buone soluzioni).

Offriamo tre diversi tipi di prodotti :

Genio vegetale: elofite, geotessili cocco e juta, fascine cocco
Gabbioni: doppia torsione, elettrosaldati (scatole, sacchi e materassi)
Stuoie contro l'erosione: geostuoie di cocco e juta, geomaterassi, geogriglie tridimensionali,

AquaTerra Solutions® offre la propria competenza, la propria assistenza tecnica e propone soluzioni principalmente nella Francia metropolitana e d'oltre mare, ma pure nei paesi di lingua francese.
---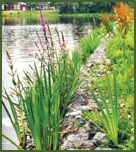 AquaTerra Solutions® is a company based in Rhône-Alpes, specialising in erosion control techniques , bio-engineering, watercourses, river restoration, lakes and wetlands, shorelines and banks protection, biodiversity, gabions, stabilisation and reinforcement of soils and slopes , vegetation establishment on embankments, landscape and hydraulic works, as well as retaining walls, noise barriers and stone facades.

We advise on environmentally friendly solutions. We give priority to soft ecological solutions and insist on developing the most perfectly adapted techniques. Besides offering appropriate answers to the market needs and uses, AquaTerra propose a more reliable alternative with guaranteed results, and easier, safer methods of construction.

Our constant aim is to provide quality solutions from conception to realisation (quality products with poor customer service is of no use). We sell three main types of products: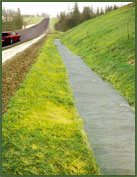 Bioengineering : wetland plants, fibre carpets and rolls, coir logs, pre-vegetated fibre rolls, floating islands, brushwood faggots.
Gabions : double twisted mesh and welded mesh (boxes, matresses and sac) rock rolls
Mats : fibre mats, biomats, geomats, mulchmats, three dimensional mats,
permanent turf reinforcement mats.

AquaTerra Solutions® provides its knowledge and technical assistance mainly in France and French overseas, as well in French speaking countries.