Più di 25 anni d'esperienza nell'ambito di la stabilizzazione dei suoli e il controllo dell'erosione, i corsi d'acqua, la pianificazione di argini e zone costiere, il trattamento di zone umide e paludose, la rinaturazione di biotopi raggruppate sotto un'unica insegna.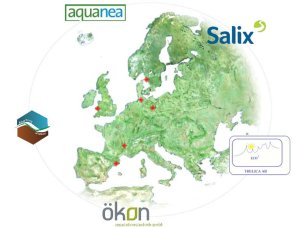 Il 25 agosto 2006 il gruppo European Soil and Water Engineering Group EEIG è stato registrato con l'obiettivo di riunire delle società europee con un marketing globale comune, unendo in tal modo le competenze individuali specifiche a favore di un ampia serie di progetti, standardizzando dei prodotti e mettendo in comune di programmi di ricerca e sviluppo di prodotti e sistemi nel settore della ingegneria naturalistica (bio-ingegneria).

I membri fondatori sono: AquaTerra Solutions Sarl (Francia), Aquanea (Spagna), Ökon Vegetationstechnick GmbH (Germania), Salix River & Wetland Service Limited (Gran Bretagna) e Thulica (Svezia), che hanno competenze ed esperienze uniche con più di 1000 progetti realizzati in tutt'Europa.

Le conseguenze dei progetti di ingegneria civile sull'ambiente impongono misure atte ad evitare o limitare l'impatto negativo di tali progetti sulla fauna, la flora e gli habitat naturali.

La bio-ingegneria dei suoli offre delle soluzioni, in cui si da ampio spazio a una visione olistica dell'ambiente con soluzioni dolci e rispettose dell'ambiente, che integrano parametri tecnici ed economici. L'efficacia è data dall'equilibrio tra i risultati del progetto e i suoi impatti sulla natura.

Questo nuovo raggruppamento offre in tal modo ai suoi membri le risorse e le esperienze più significative a livello Europeo e probabilmente a livello mondiale.

L'obiettivo di cooperazione tra colleghi dell'Unione Europea è incoraggiato anche dalla EEIG (European Economic Interest Grouping) e dai suoi regolamenti, EEC No. 2137/85 del luglio 1985.


---

More than 25 years of expertise in the field of slope stabilisation and erosion control water course, river bank and shoreline management wetland and run off water treatment gathered under one roof.

On August 25th 2006 the EUROPEAN SOIL AND WATER ENGINEERING GROUP EEIG was registered in Sweden with the purpose of joint European and global marketing, combining individual engineering competences for large scale projects, product standardisation, joint research and development of products and system in the sector of soil bioengineering. Founding members are AquaTerra Solutions S.A.R.L. (France), Aquanea (Spain), Ökon Vegetationstechnik Gmbh (Germany), Salix River & Wetland Services Limited (GB) and Thulica AB (Sweden), who represents unique competence and experience with more than 1000 projects carried out through out Europe.

Expected consequences for the environment at any civil engineering project in our nature necessitate focus at the planning phase on measurements to mitigate negative impact on flora, fauna and habitat in general.

Soil bioengineering offers solutions where a holistic view point on the environment is guiding selection of systems to optimise environmental concern, technical and economical parameters. The effect will be a cost efficient technical project in balance with nature.

The new company may offer its members joint resources representing the accumulated largest capacity in Europe and probably in the world.

The objective of such co-operation between colleagues within the European Union is encouraged by the EEIG (European Economic Interest Grouping) regulations, EEC No. 2137/85 of July 1985.