Meer dan 25 jaar expertise op het gebied van ecologisch ontwerpen & bouwen en erosie beperking rivieren-, meren- en watergangen oever management wetland en oppervlakte water behandeling verzameld onder èèn dak.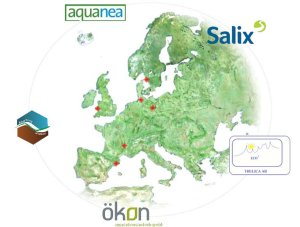 Op 25 augustus 2006 werd de EUROPEAN SOIL AND WATER ENGINEERING GROUP EEIG opgericht in Zweden, met het doel gezamelijk Europese en wereldwijde marketing, de individuele bio-civiele engineering kennis voor projecten te combineren, producten te standariseren, gezamelijk onderzoek en ontwikkeling ter hand te nemen op het gebied van ecologisch bouwen.
De oprichters zijn : AquaTerra Solutions Sarl (France), Aquanea (Spain), Ökon Vegetationstechnik GmbH (Germany), Salix River & Wetland Services Limited (United Kindom) et Thulica AB (Sweden). De partners beschikken over unieke kennis en ervaring in het bio-civiele vakgebied, verkregen bij de realisatie van meer dan 1000 projecten in geheel Europa.
De verwachte negatieve gevolgen voor het (leef)milieu bij het ontwerpen en uitvoeren van civiele projecten vereisen al in de plan-fase aandacht voor maatregelen die de nadelige gevolgen voor flora, fauna & leefomgeving, habitat & ecosytemen, mitigeren en of compenseren.
Bio-civiele constructies bieden een drie-dimensionale oplossing vanuit het oogpunt van zorg voor het milieu en technische- & economische parameters. Het resultaat is een efficiënt (technische)project in balans met de natuur en het milieu, een verantwoord ecologisch resultaat.

De nieuwe onderneming maakt het haar oprichters mogelijk te putten uit de unieke gezamelijke kennis, ervaring en capaciteiten van de individuele deelnemers, waarschijnlijk de grootste bundeling van bio-civiele kennis in Europa en wellicht zelfs in de gehele wereld.
Het doel van deze samenwerking tussen collega's in de Europese Unie wordt gefaciliteerd door de meer dan 20 jaar geleden in het leven geroepen 'Europese BV' de zogenaamde EEIG (European Economic Interest Grouping), EEC besluit No. 2137/85 van juli 1985.


---

More than 25 years of expertise in the field of slope stabilisation and erosion control water course, river bank and shoreline management wetland and run off water treatment gathered under one roof.

On August 25th 2006 the EUROPEAN SOIL AND WATER ENGINEERING GROUP EEIG was registered in Sweden with the purpose of joint European and global marketing, combining individual engineering competences for large scale projects, product standardisation, joint research and development of products and system in the sector of soil bioengineering. Founding members are AquaTerra Solutions S.A.R.L. (France), Aquanea (Spain), Ökon Vegetationstechnik Gmbh (Germany), Salix River & Wetland Services Limited (GB) and Thulica AB (Sweden), who represents unique competence and experience with more than 1000 projects carried out through out Europe.

Expected consequences for the environment at any civil engineering project in our nature necessitate focus at the planning phase on measurements to mitigate negative impact on flora, fauna and habitat in general.

Soil bioengineering offers solutions where a holistic view point on the environment is guiding selection of systems to optimise environmental concern, technical and economical parameters. The effect will be a cost efficient technical project in balance with nature.

The new company may offer its members joint resources representing the accumulated largest capacity in Europe and probably in the world.

The objective of such co-operation between colleagues within the European Union is encouraged by the EEIG (European Economic Interest Grouping) regulations, EEC No. 2137/85 of July 1985.